Unicorns do exist! Meet the B 770 QE Tula Pink Special Edition.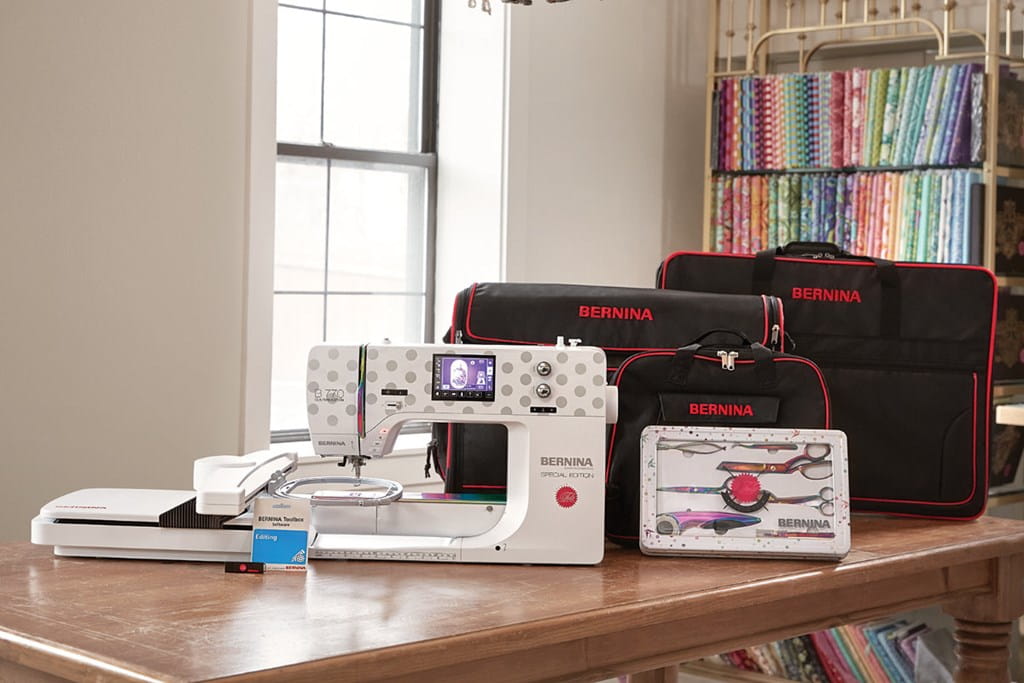 Plus, this magical machine includes all these fabulous gifts worth over $4,300!*
BERNINA Suitcase System
BERNINA Toolbox editing software
Tula Pink Hardware Set − a rainbow-drenched collection of hand-crafted sewing tools in a decorative tin
BERNINA Accessory bag
7 Series Embroidery Module
Available only while supplies last!
Uniquely charming design
Exclusive polka dot faceplate
Oil slick rainbow finish parts**
Designed by Tula Pink
The thread take-up lever and freearm cover come with a special oil slick rainbow colored finish while the faceplate is decorated with an exclusive polka dot design by Tula Pink.
Exclusive decorative stitches
28 stitches designed by Tula Pink
Inspired by her fabric designs
Built into the machine
A worldwide unique collection of new signature designs for decorative stitching, exclusively created by Tula Pink. For even more creativity.
More embroidery and quilt designs
USB stick with over 500 Tula designs
Three Tula Pink embroidery design collections
12 collections of quilting designs by OESD
A collection of numerous quilting and embroidery designs that will make every quilter's and embroiderer's heart beat faster!
---
Premium Tula Pink hardware set
Unique collection of hand-crafted sewing tools
Rotary cutter, different scissors and more!
All in beautiful rainbow colors
This set includes a 45 mm ergonomic rotary cutter, 8" fabric shears, 6" straight scissors, 6" duckbill appliqué scissors, 5" snip, 5.5" seam ripper and 4.5" tweezers. It comes in a decorative tin.
Quiet & precise sewing
Ideally suited for decorative stitches
Sew & embroider for longer periods of time
More time for your creativity
The BERNINA Hook sews high-precision stitches up to 9 mm in width with speeds up to 1,000 stitches per minute. The bobbin holds 70% more thread than standard bobbins.
A lot of space just for you
Embroider maxi-sized motifs with ease
Comfortably maneuver large projects
Designed for the Maxi Hoop
The B 770 QE Tula Pink Special Edition offers a full 13-inch extended freearm including ten inches of space to the right of the needle. Enjoy a large sewing and embroidery area.
---
Finest stitches at any speed
Achieve perfect, equal-length stitches
Perfect results no matter which speed
Perfection comes standard
The BERNINA Stitch Regulator (BSR) guarantees precise stitch quality and results at any speed during free-motion quilting.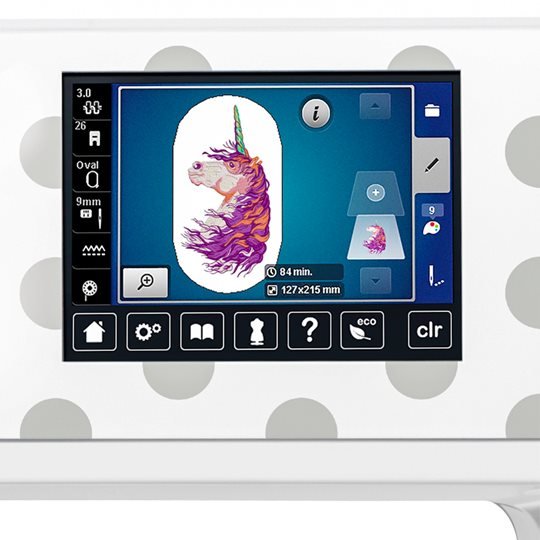 Ask your on-screen support
Enjoy intuitive navigation
Find the proper needle and foot
Learn more about sewing and embroidery
The Sewing Consultant and the built-in tutorials offer direct on-screen support and answers to your questions at any time, day or night.
Sew silk & leather like a pro
Handle special materials with ease
Enjoy superb fabric feed
Optimum visibility while sewing
The innovative BERNINA Dual Feed is easily engaged when needed and tucks completely out of the way when it's not.
"This is the unicorn of sewing machines!"
This beauty is really a one-of-a-kind delight! The lovely rainbow, oil slick finish on the freearm cover and thread take-up lever cover as well as the exclusive Tula Pink designed faceplate transform the BERNINA 770 QE. It comes with all the latest innovations of the B 770 QE plus lots of fabulous extras.
Tula Pink Quilter and Fabric Designer