Working with an overlocker means saving time and stitching fast. Sewing projects take shape quickly and with little effort. Innovative features make BERNINA overlockers delightfully easy to use, ensuring professional quality down to the very last stitch. The overlocker is the perfect companion to a sewing machine.
Easy to Use - a one-step adjustment fine tunes looper stitches to fit the cut edge
Reduces test sewouts looking for the perfect stitch
Creates professional seams and perfectly finished edges
Comfortable sewing due to two LED lights by the needle and in the looper threading area
Serger tools are easily accessible in the looper cover door – and always at your fingertips
Cut-offs bin for fabrics and threads; also great for storing the foot control when not in use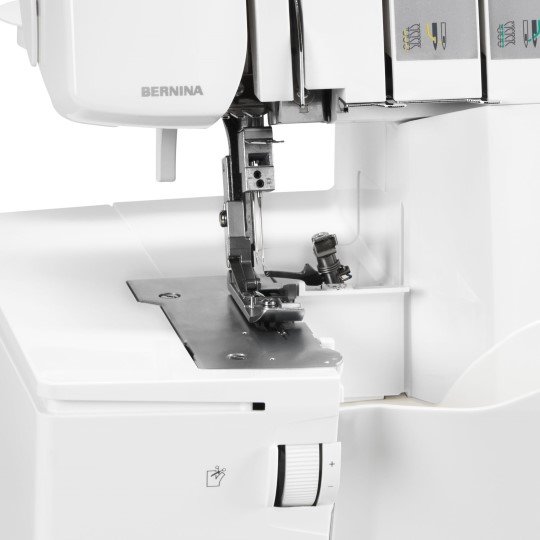 Sew fast and smoothly at any speed
Stitch and cut thick fabrics with ease and precision
Stitch wave-free seams in knits and pucker-free seams in fine fabrics with differential feed
Easy & ergonomic threading with the manual needle threader
Simple lower looper threading with the lower loooper threader
Thread successfully following the color-coded path and using the handwheel positioning window
Accessible & easy thread cutting on the external thread cutter
The BERNINA L 450 is the second model in the BERNINA L Series. It is the perfect overlock solution/companion to the to the BERNINA L 220 chain/coverstitch machine for the complete Serger Solution.
Sews, cuts and finishes seams in one operation for efficiency and with precision
Easy and comfortable to handle even for beginners 2-3-4 thread stitch formations provide the most flexibility in selecting the perfect stitch
Professional stitch quality each time
Excellent rolled hemming
Perfect for stretchy and woven fabrics
Ruffles and gathers automatically with differential feed