It's Our Birthday & You're Invited To Help Us Celebrate!!!
Wednesday, December 14-Saturday, December 17, 2016
Door Prizes
Refreshments

OUR 1st BIRTHDAY CELEBRATION SALE
Text goes here

Save Big On All Items Listed Below
Embroidery Thread (Isacord &Floriani)
BUY 3 GET 1 FREE
All trim and Lace (except Bridal)
25% Off
Amanda Murphy "Sewing Roon" Collection
25% Off
Cherry Guidry "Kitchen Love"
25% Off
All Fall & Christmas Fabrics
50% Off
Select Floriani Embroidery Design CD's
50% Off
---
BERNINA Specials
---
Happy Holly Days from BERNINA
Season's Greetings to all and to all a good deal!
There are so many offers to choose from this year so let's get straight to it.

November 17 - December 31, 2016
This Holiday Rudolph's Out and Koala's In.
Purchase a B 880 or B 790 and receive a FREE BERNINA Sewing Studio by Koala, a $4,499 value.*

Rose Gold Wrapped In Red – Enjoy up to $2,000 in added value!
Purchase a B 765 SE and choose one of these FREE.**
BERNINA Quilting Kit
B 330
Embroidery Module

Better Than Santa's Sleigh
All BERNINA Suitcase Systems are 50% Off.***

PLUS 0% interest for 48 months† on all BERNINA purchases $3,000 or more made with your BERNINA Credit Card. 48 Equal Monthly Payments Required.
November 17 - December 31, 2016.
Apply now!

Get More Precision For Less Jingle B 530 for $1,499***
VERY SPECIAL LIMITED TIME OFFER
DEC 15-21
---
---
Accuquilt Specials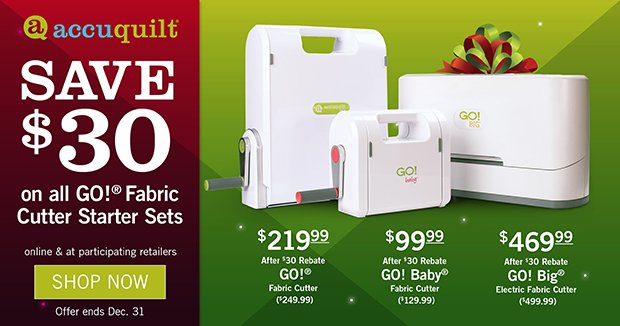 ---
Upcoming Calendar Events
| | | |
| --- | --- | --- |
| Log Cabin Quilt Class | Dec 5 | 10:00 am |
| | | |
| 3 Series Machine Guide Class 1 | Dec 6 | 10:00 am |
| | | |
| Machine Guide Class 2 (5, 7, 8 Series) | Dec 7 | 10:00 am |
| | | |
| V.8 Software Class | Dec 9 | 10:00 am |
| | | |
| Log Cabin Quilt Class | Dec 12 | 10:00 am |
| | | |
| 3 Series Machine Guide Class 2 | Dec 13 | 10:00 am |
| | | |
| HAPPY 1ST BIRTHDAY TO US! | Dec 14 | |
| | | |
| Machine Guide Class 3 (5, 7, 8 Series) | Dec 16 | 10:00 am |
| | | |
| Log Cabin Quilt Class | Dec 19 | 10:00 am |
| | | |
| Machine Guide Class 4 (5, 7, 8 Series) | Dec 21 | 10:00 am |
| | | |
| CHRISTMAS HOLIDAY | Dec 24-26 | |
| | | |
| Machine Guide Class 5 (5, 7, 8 Series) | Dec 28 | 10:00 am |
| | | |
| | | |